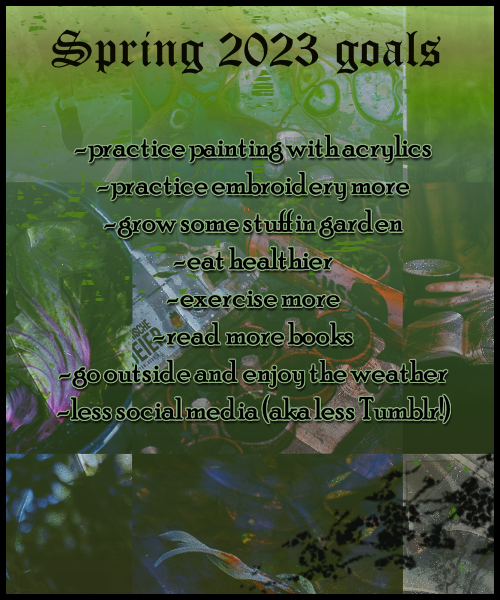 Looking for what I'm into atm??

As you can see, this website is under construction. I'm making artwork and figuring out how to code right now. I'm both learing how to make digital art with a new tablet and learning HTML, so this is going to take some time! I'd love it if you came back to see how far I've gone. Enjoy what I have so far!
<-----feel free to link me :)
Update 3/24/23: Added a "current obsessions" page and a new blog post. I would like to figure out how to do a chart for my C.O.'s, but Idk how I would even go about it. Yes, you can comment on that page too! I would like to make a "media I'm looking forward to" page soon.
Update 3/11/23: Huge news! I'm gonna be putting comment forms on every blog post! Maybe elsewhere too! The blog page got a facelift now with custom link images made by yours truly. Also there's a whole new blog post! This one also talks about what I've been up to lately a little. I think I'm going to try my best to open this site up to more user interaction and stuff for people to actually do, but I have to figure out how I can do that. If I could just put a messageboard on here, I would! I like the idea of people getting to say how they feel instead of just observing here. Please, comment like crazy yall! Also, do you see that guestbook up there? ;)
Update 2/10/23: I'm 30 now lol. The millennials are getting too old for all the stuff we do lmao. But anyway back to my usual childish bullshit, I have not forgotten this little place! I've got a new blog post, I might just redo all their buttons for those things but I'm not sure how to make them look yet. I just think more stuff made by me would be kinda fancy. Also I need the practice. I think I'd like a new layout too but I wouldn't even know what kind to get or try and make. But I think something less dark and serious would be more my style for sure. Something I can make these little boxes easier to read and scroll through. Open to suggestions!!!
Update 1/24/23:
Okay so I've added a few things, I actually drew a new profile picture for myself and as you can see I'm still getting used to using the tablet lol. I'm looking into adding a guestbook or comment boxes, I would love to have the ability to have comment sections for each of my blogs but I have no idea how to do that!
Update 1/16/23:
FINALLY CHANGED THAT DARN BACKGROUND! You see, I have a dark theme on my browser and totally forgot that wasn't how everyone saw it lol. I've changed the scrollboxes too, and a few other things. I also drew a lil pic of me! There's this liminal and blissfull state I'm consistently stuck in these days where I'm figuring out what I can do for this site, but I'm in a liminal and stressful state when I figure out what to practice drawing. I'm sticking to the fun stuff for now lol.
Update 1/14/23:
SO MUCH NEW STUFF!!! Added new blogs and the link out page, and so much more! We've got actual content on here!
update 1/12/23: added picture popups! fun times babey!
update 1/8/23: Messing around with adding some new trinkets to the site, it's becoming more like a real one!
In the meantime, talk to me!
Theme by Repth